Pugs Available for Adoption
The pugs below are available for adoption unless they are marked "Adoption Pending".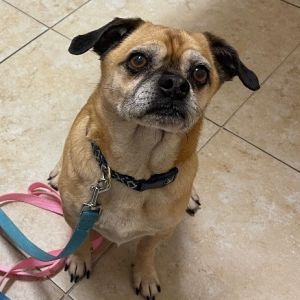 Puggle
Spayed/Neutered
Housebroken
Up-to-date with routine shots
Hi everyone we are Tank and MiMi.  We are litter mates and about 8 yrs old.  Our human daddy got... View full description »
Senior, Female, Small


Pug
Spayed/Neutered
Up-to-date with routine shots
Meet our big guy…..Alon! This handsome boy is about 2 years old and has the most adorable underbite! He's slow... View full description »
Young, Male, Small
CPR only accepts applications from Florida residents 21 years of age and older.
Every pug is seen by a veterinarian prior to being offered for adoption and has been treated for any known health problems. All of our pugs are spayed/neutered, current on shots, and heart worm negative.
Our adoption fee depends on the health and age of the pug. One hundred percent of this fee is put back into CPR to pay for the medical expenses and treatment of our rescue pugs.
You must fill out an adoption application if you're interested in adopting a pug from CPR. Please do not fill out the application unless you are ready to adopt a pug at this time.